Breaking the Chains of Inflation: Fight for Affordable UK Living
Meet the Force for Change
At Fight2Survive, we're driven by a profound commitment to alleviating the financial strain experienced by families across the United Kingdom. Our organization, Fight2Survive, emerged as a beacon of hope and change in the face of this growing crisis. We believe that every individual deserves the opportunity to thrive without being weighed down by economic challenges. Through our dedicated campaign, we're rallying communities, families, and citizens to unite against these rising costs.
Our mission encompasses more than just addressing the symptoms of inflation; it's about creating sustainable change for a brighter future. We're working tirelessly to raise awareness, advocate for fair pricing, and implement actionable solutions that directly counter the impact of inflation on daily lives.
As London's Ultra Low Emission Zone (ULEZ) gears up for an expanded rollout in August 2023, our Phase 2 campaign, "No to ULEZ," takes center stage in advocating for the concerns of the everyday citizen. With each passing day, the cost of living crisis looms larger, burdening families and individuals across the city. The ULEZ, with its daily fee of £12.50, translates to an annual cost of approximately £4,500 – a significant financial strain that raises questions about affordability, fairness, and the impact on vulnerable communities.
Discrimination
DISCRIMINATION against those who cannot afford to buy or upgrade their vehicle (largely due to the already soaring costs of simply living with basic necessities !). 
Bankruptcy
BANKRUPTCY can be a reality to those on a minimum wage who have to purchase a new vehicle and then struggle to keep up the instalments.
TAX
TAX on the working class under the pretext of clean air. There is no backing for this which can be seen by the £5 drop off charges at airports. How does paying £5 clean the air?
Prabhdeep Singh on a 7 day hunger strike against ulez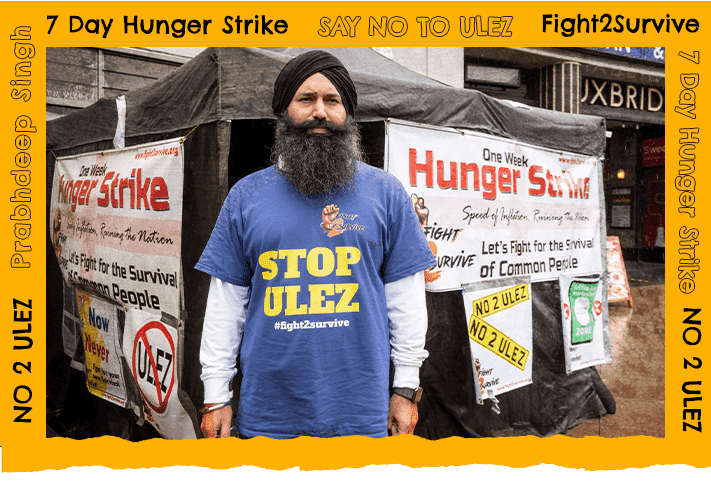 In a powerful display of conviction, our Prabhdeep Singh, a British Army veteran and former Royal Army Dental Corp member, has embarked on a 7-day hunger strike to protest the expansion of Sadiq Khan's Ultra Low Emission Zone (ULEZ). The ULEZ, characterized by its £12.50 daily clean-air tax, has stirred substantial controversy, particularly for its impending expansion across London.
Mr. Singh's hunger strike is a poignant plea against the ULEZ expansion, which he views as an additional burden on those already grappling with the cost-of-living crisis and food poverty.
Listen What Prabhdeep Singh Has To Say
In the Headlines: Prabhdeep Singh's Resolute Stand Against ULEZ
Featured Stories & Rising Support